THE SUNSET PIONEERS!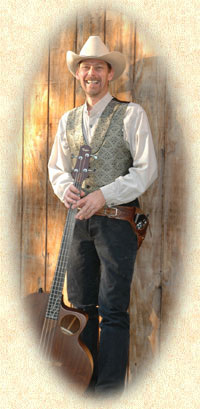 It has been said, "some people are born with a silver spoon" – it seems though, for the life of Dusty CartRide, he was brought into this world with bass in-hand!  "As far back as I can remember, I have been a bass player", Dusty explains.  "Born with it?  Well, sure – it just took me until I was 10 years old to get my arms around the darn thing!"
Born and raised in Minneapolis, MN, music and particularly playing the bass have defined his life.  Classically and jazz trained in New York City and receiving instruction from Homer Mensch (New York Philharmonic), Lou Bruno (New York Philharmonic), Michael Moore (Michael Moore Trio) and Tom Barney (New York City Sessions) it was not long before his talents were being realized.  A mixture of classical, jazz, Broadway musicals, cabarets, salsa and Latin gigs kept him very busy.  With all these influences, is it fair to ask then – Why cowboy music?  "Absolutely"! exclaims Dusty.  "Early in my New York music experience, for whatever reason, I turned to my wife and stated – I think I was a cowboy in a previous life!"  Well, how fate has a way of turning our way.
Today Dusty enjoys playing the songs of the old west as much as any music he has played in the past.  "How can you not relate to sitting around the campfire, riding a horse, rounding up the cattle and the wide open spaces"? he asks.  "As a young boy I remember my dad singing these songs and they have always stuck in my mind as a link to a simpler time".
Dusty studied at Bemidji State University, Bemidji, MN, University of MN, Minneapolis, MN, and William Patterson University, Wayne, NJ. He has studied privately with John Hamilton, Minneapolis, MN, Homer Mensch, NY, NY, Lou Bruno, NY, NY, Michael Moore, NY, NY, Tom Barney, NY, NY, and Jerry Jemmott, NY, NY.
He has played with music greats like Dizzy Gillespie (Solo and Clinician tour), Marvin Stamm (Trumpet, NYC sessions), Eddie Daniels (Saxophone, Solo and Clinician tour), Lou Caimano (Saxophone, NYC sessions), Joel Perry (Joel Perry Project, New York), and Michael Shreve (Drums, Santana).
Today, outside of his cowboy adventures, Dusty CartRide is an avid cyclist and is involved in the cycling industry with a true passion.  Owning a bicycle messenger service, an online bicycle parts retail operation and riding his bicycles (he has 6) over 100 miles a week, you could say he is a true "Metal Cowboy"!  "Yep!" Dusty explains, "You could say I traded my horse for a bike.  Sure, I would rather have a horse for companionship, but I don't have to clean up much after my bike!"
Send email to Dusty at dusty@sunsetpioneers.com